CLOSED for the Season due to COVID-19
Welcome to the Spa at The Glen House Resort.
Our tranquil spa environment is the perfect setting for you to enjoy our refreshing treatments of body and mind.  Select from a variety of spa treatments that will revitalize and soothe your senses. Treat yourself to the pampering and care you deserve.
The Spa is open to the public, and any service may be added to complement your stay at the Glen House Resort, please book packages in advance.
.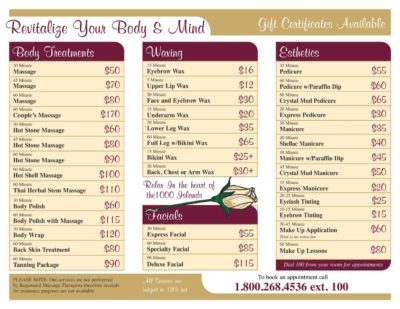 .
2020 SPA HOURS
Sunday to Thursday – Closed
Friday – 10 am to 5 pm
Saturday – 10 am to 6 pm
Call (613) 659-2204 ext. 100 to book your appointment
.
.