Entertaining guests for over 100 years
Smugglers Glen Golf Course
Championship 18-Hole golf course
Soak up the sun outside or enjoy the indoor pool with Whirlpool
A perfect place to socialize with friends and family
Enjoy our hospitality and peaceful island view setting
IN THE HEART OF THE 1000 ISLANDS
Create extraordinary memories that last a lifetime

Currently, the resort is closed for the season, reopening on April 1st. Please check out our Hot Deals & Special Offers tab under our Rates menu for exciting upcoming packages!

We are now taking reservations and answering inquiries for the 2021 season. You can reach us by phone at 613 659 2204 ext. 1. If no one is available to answer your call, please leave a message and we will get back to you as soon as possible. Alternatively, you can email us at info@glenhouseresort.com.  Please refrain from visiting us in person until our office is open to the public this April. Thank you for your interest and stay safe!
---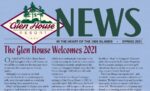 Glen House 2021 Newsletter: Click to read
---
***Please Read: COVID-19 Protocols and Amenities for Guests***
Security Deposit Policy:
All reservations require a one-night stay deposit* to confirm. All security deposits for one-night stays are non-refundable. Resort credit vouchers may be issued, given 72-hours notice, on multi-night reservations.
Deposits are equivalent to the price of the first night's stay. For golf groups, deposits are per person. 
Masks:
As of July 7, 12:01 am the Leeds, Grenville and Lanark District Health Unit has mandated that masks be worn inside all public spaces and businesses. As such, all guests entering the hotel lobby for check-ins or passing through on their way to the open-air patio for meals will have to wear masks. Golf guests will have to wear masks while inside the pro shop. Hotel guests with rooms accessed via enclosed hallways will also have to wear masks prior to entering their rooms. This order is in keeping with similar mandates in place in Toronto and neighboring Kingston. We ask that all guests be respectful of this order and our staff seeking to implement it. People who should not use face coverings are:
Children under the age of two
Anyone who has trouble breathing
Anyone who is unable to remove it without assistance
Resort COVID-19 Protocols:
We hope that you and your families are staying safe and healthy during these challenging times. Your safety, and that of your families, continues to be at the forefront of our minds.
New protocols will minimize guest contact with a streamlined check-in and check-out process. The front lobby is to be limited to one member of your party only. The debit machine will be sanitized following every use.
Social distancing measures will be implemented, including the installation of floor decals, Plexiglass partitions, and removal of all lobby brochures, magazines and papers. Enhanced sanitation procedures will be in place in the lobby and across guest touch points throughout the resort to make your stay as relaxing, safe and streamlined as possible under these circumstances.
Guest Rooms and Housekeeping
Unnecessary items will be removed from guest rooms, such as decorative pillows, bed scarves, paper notepads and pens.
Housekeeping offerings will be modified for stay-over guests, including the elimination of a full cleaning service, unless specifically requested by guests
Enhanced and thorough cleaning protocols will be implemented in guest rooms.
Hotel Associates and Staff Requirements
Hotel employees will follow strict guidelines, including utilizing Personal Protective Equipment (PPE), frequent and stringent hand-washing protocols, and housekeeping/laundry staff will wear both gloves and a mask.
Employee workstations will be cleaned and disinfected after every shift.
Employees will be empowered to stay home if unwell, communicate their potential exposure to COVID-19 with management, and will be fully educated on how to maintain a safe and clean home.
Golf Course Cleaning Protocols
As per government-mandated guidelines, all of our golf carts are being sanitized prior to and after each use. A one-person-per-cart or Two people with approved mandatory cart divider policy has been implemented, as well as social distancing aids in our clubhouse. All on-course washroom facilities will be closed until further notice; our clubhouse washrooms will be available and cleaned rigorously. Additionally, staff will be out on the course encouraging social distancing standards. Credit card transactions only, please.
Amenities:
Currently our region, as with the majority of Ontario as of July 5, 2020 is operating under Phase 2 guidelines. Our outdoor pool is open to all hotel guests. All bathers must complete a simple COVID-19 Self-Screening form ensuring that all swimmers are healthy. Next, sign up for a designated swimming period (1 hour max per time slot, 8 people max inside the enclosure per hour). Our tennis court (please remember to bring your own racket, if possible), beach area and swimming raft in the beautiful, clear St. Lawrence River are also available. Our spa & indoor pool/hot tub area, games room, fitness center, and equipment rentals (Canoes, Kayaks, Pedal Boats, Bikes, Motor Boats) are closed until further notice. Out of concern for the health and safety of our guests and the public, social distancing recommendations and rigid cleaning protocols have made these services, unfortunately, inoperable. We encourage all of our active guests to bring with them their own bikes, canoes, kayaks, lawn games, etc. that will make their stay as enjoyable, relaxing, and safe as possible. Please take advantage of our beautiful waterfront and close proximity to the 1000 Islands biking trail! Folding lawn chairs are also welcome.
Rain Check Policy
Due to COVID-19, our rain check policy has changed. In the event you require a rain check, we ask that you leave the property and call our Pro Shop the next day at 613-659-4999. We will email rain checks after your call. This policy has been put in place to avoid large gatherings in the Pro Shop and parking lot. Thank you for your understanding! 
---
THE GLEN HOUSE RESORT
IN THE HEART OF THE 1000 ISLANDS
 Our 75 room resort has entertained guests for over 100 years. Enjoy our hospitality and peaceful island-view setting.
Smuggler's Glen – Our very own on-site championship 18 hole golf course
Shipman's Dining Room – Island view casual fine dining
Smuggler's Lounge – A popular guest retreat serving pub fare
Swimming – Take advantage of our indoor and outdoor pools and our anchored raft in the St. Lawrence River
Games room
Canoe, Kayak and Paddleboat rentals
Weight room and Cardio room
Shuffle board on the front lawn by the banks of the St. Lawrence River
Children's Play Structure
On-site Glen House Spa
Purchase Options
Call or email our Glen House Sales Associates
For Golf Gift Certificates call our Pro Shop
Payment Options:
We can set up payment by credit card over the phone and have the gift certificate mailed or set aside ready for you to pick up at the Clubhouse or Glen House Resort.
If you prefer, you can stop at the resort or golf course (in season) to pay and pick up in person
---
"Nothing is too much trouble for the staff - the service and willingness to help is first class.  I would highly recommend the Glen House Resort as a hotel and conference centre. - Don M, Algonquin Student's Association"